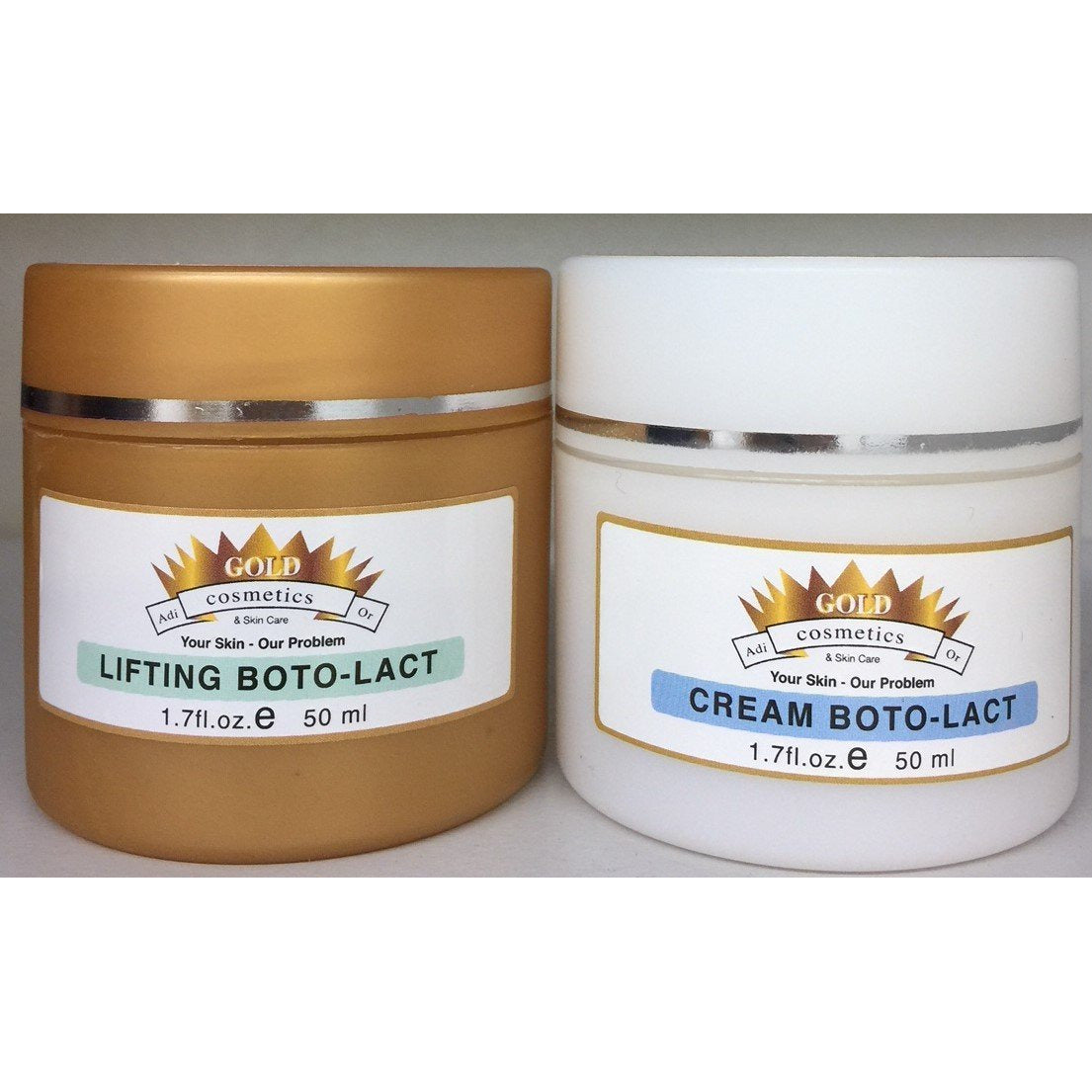 Gold Cosmetics | Boto-Lact Kit



Translation missing: en.products.product.price.regular_price
$138.00
Translation missing: en.products.product.price.sale_price
$138.00
Translation missing: en.products.product.price.regular_price
Description
Ingredients
How To Apply
FAQS
Boto-Lact Kit:
Lifting Boto - Lact contains lactic Acid with argenin . It keeps the skin hydrated , improving Elasticity and Reversing Free Radical Damage..Lactic Acid has the ability to gently remove dead layers of skin, this encourages better product absorption . With its ability to smooth fine line and wrinkles, Lactic Acid is a proven anti-aging ingredient. Arginine is said to be an HGH enhancer. It stimulates our body to release anti-aging HGH (human growth hormone), which helps to slow down the aging process.
Benefits
Reduce wrinkles, uneven skin tone, dark spots,
STIMULATE COLLAGEN PRODUCTION & SYNTHESIS to prevent the formation of wrinkles.
Application
Apply the product on a clean surface to 3-4 times a week.
How People Have solved their skin problems
"I'm so happy with Gold Cosmetics, they came into my life when I needed them the most. Before I was saggy, my face was rough and not looking good. So, a friend of mine recommended me to Gold Cosmetics. They gave me their product and after a few sessions with Zehava, I started noticing changes in my skin. Thank you to Gold Cosmetics."
"I suffered from major pigmentation and sunspots on my face. My face was very bad before. When I came to Gold Cosmetics, I first did the peeling. To maintain it, I used Bleach Cream. Now, I feel amazing, confident, and extremely happy with the result. I recommend Gold Cosmetics to everyone that is suffering from sunspot and high pigmentation or any other skin problem
"I'm happy with their product, it worked so well on my skin. Their treatment process was easy and painless. They were very friendly. I started seeing results on my skin after days of going to Gold Cosmetics. I recommend them to everyone. They are the best"
Gold Cosmetics are simply the best. I've been using them for over two years now. I have my sessions with them every month. And so far, I have been getting what I want. Look at my skin, so nice and smooth. I highly recommend Gold Cosmetics