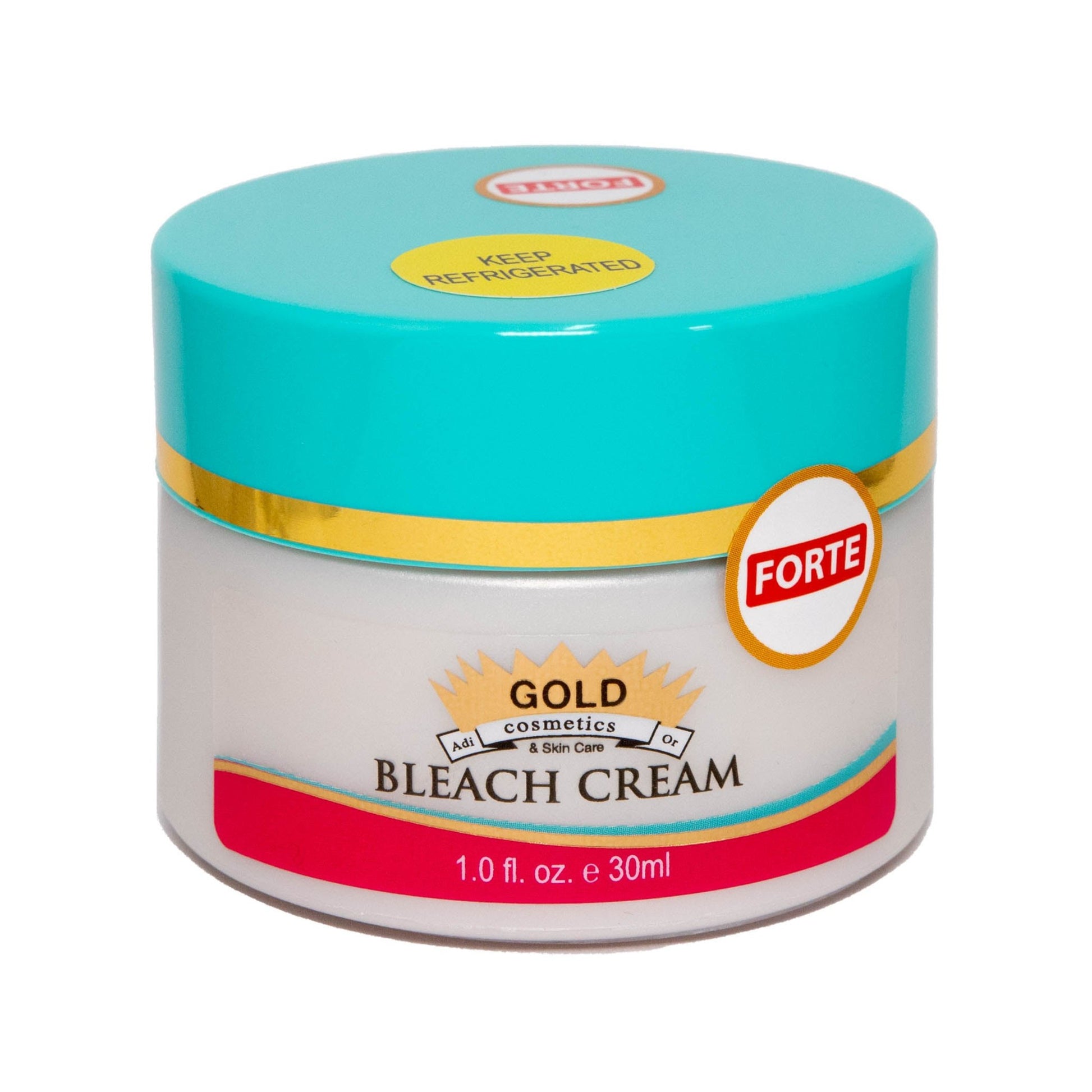 Gold Cosmetics | Skin Bleach Cream | Forte | 30 ml
Looking for that top magic skin-lightening cream for reducing wrinkles and serious pigmentation? Look no further, introducing our Skin Bleach Cream Forte

Perfect for anti-aging skin treatment, clears age and dark spots with ease

Unifies the skin tone to satisfaction

Treats bad pigmentation effortlessly
Translation missing: en.products.product.price.regular_price
$119.00
Translation missing: en.products.product.price.sale_price
$119.00
Translation missing: en.products.product.price.regular_price
Description
Ingredients
How To Apply
FAQS
Skin Bleaching Cream Forte – Twice Stronger Than Regular Bleach Cream
Introducing our top magic skin lightening cream for wrinkles and serious pigmentation. It's twice stronger as the regular bleach cream. Works like magic on dark spots, wrinkles, patches, and discolorations. If you want to get rid of unwanted blemishes from your skin, bleach cream forte remains your best option for doing so. The container is perfectly designed to accommodate very well on your skincare bags or cupboard. This strong bleach cream is for clear and bright skin. Get yours today!
Benefits
Perfect for anti-aging skin treatment 

Powerful and effective in skin lightening 

Clears age and dark spots with ease 

Unifies the skin tone to satisfaction 

Treats bad pigmentation effortlessly 

Works like magic on wrinkles
Apply Skin Bleach Cream Forte
For Stronger Skin Lightening Results
Hydroquinone, Retinol, Aqua Dest, Oktye Polyoczylamide, Palmitate, Glycerine, M Dimethicone Copol 40%, Phenoxyethanol, Isoparaffin.
Keep the product refrigerated and ensure to apply in the evening. You can also combine it with bleach silver for stronger and faster results. We highly recommend applying Sunblock alongside this product every morning before leaving your house.
How People Have solved their skin problems
"I'm so happy with Gold Cosmetics, they came into my life when I needed them the most. Before I was saggy, my face was rough and not looking good. So, a friend of mine recommended me to Gold Cosmetics. They gave me their product and after a few sessions with Zehava, I started noticing changes in my skin. Thank you to Gold Cosmetics."
"I suffered from major pigmentation and sunspots on my face. My face was very bad before. When I came to Gold Cosmetics, I first did the peeling. To maintain it, I used Bleach Cream. Now, I feel amazing, confident, and extremely happy with the result. I recommend Gold Cosmetics to everyone that is suffering from sunspot and high pigmentation or any other skin problem
"I'm happy with their product, it worked so well on my skin. Their treatment process was easy and painless. They were very friendly. I started seeing results on my skin after days of going to Gold Cosmetics. I recommend them to everyone. They are the best"
Gold Cosmetics are simply the best. I've been using them for over two years now. I have my sessions with them every month. And so far, I have been getting what I want. Look at my skin, so nice and smooth. I highly recommend Gold Cosmetics