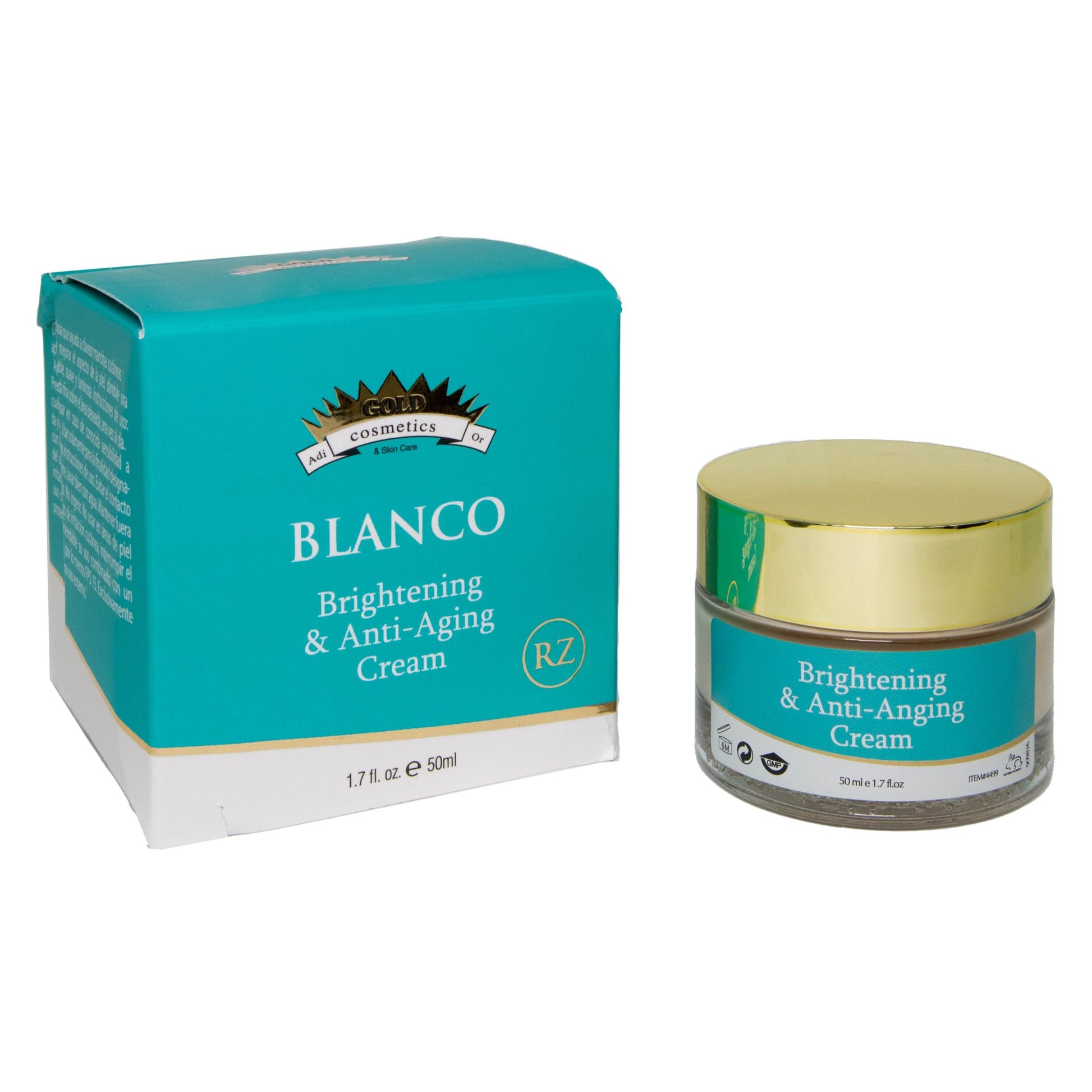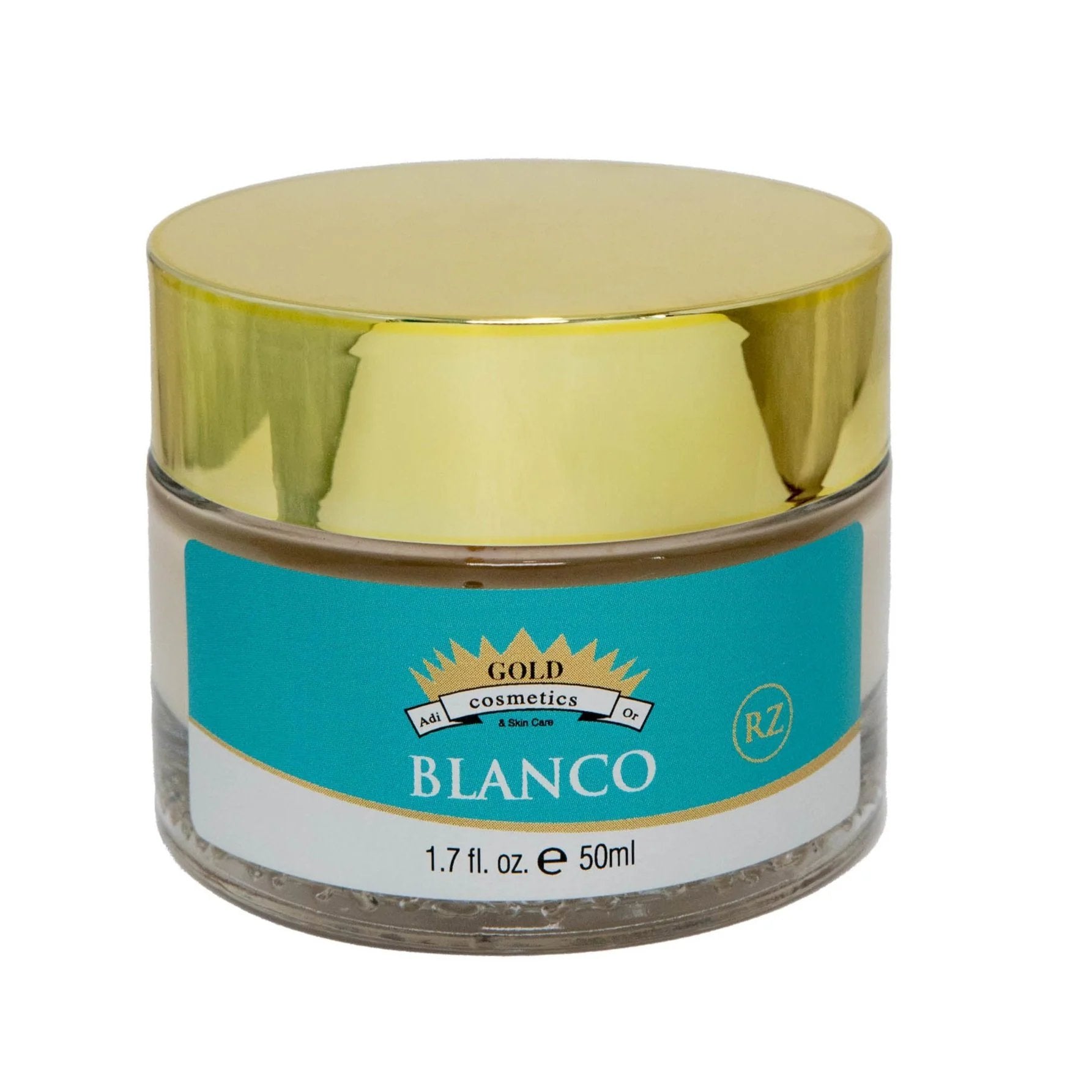 Gold Cosmetics | Blanco Cream | Skin Bleaching | 50 ml
Enhance your complexion with our number one 3-in-1 Revolutionary Bleach Cream For Skin Whitening, Lifting, and Smoothening

Clears off dark spots or patches from the skin, efficiently lightens the skin to bring out your true beauty

3-in-1 product for skin lifting, brightening, and smoothening

Premium ingredients, NO harsh chemicals like Hydroquinone
Translation missing: en.products.product.price.regular_price
$119.00
Translation missing: en.products.product.price.sale_price
$119.00
Translation missing: en.products.product.price.regular_price
Description
Ingredients
How To Apply
FAQS
The 3-in-1 Revolutionary Product For Skin Whitening, Lifting, and Smoothening
Enhance your complexion with our #1 FDA-approved skin bleaching cream which produces three actions in one product with no traces of hydroquinone. 
Formulated with Premium Ingredients for Clearer Skin
The perfect and safe anti-aging product that can make you look twice younger than your age while lifting, smoothening, and whitening your skin to your satisfaction.
For Smoothening, Brightening, and Lifting
Effortlessly produces 3-in-1 effects on the skin. Perfectly safe for pregnant and breastfeeding women.
The Outstanding Benefits
Still, having doubts? Here are the most amazing benefits of Blanco cream
Clears off dark spots or patches from the skin

Suitable cream for whitening, smoothening, and lifting. 

Efficiently lightens the skin to bring out your true beauty

Premium ingredients, NO harsh chemicals like Hydroquinone

3-in-1 product for skin lifting, brightening, and smoothening

Perfectly safe for pregnant and breastfeeding women

Suitable for long-term use.
Why This Is for You?
Blanco skin lightening cream is for everybody who wants to enhance or maintain a purely radiant and clearer skin complexion. Due to its specially selected ingredients, It's also 100% with no traces of harsh chemicals. It produces 3-in-1 effects – skin lightening, smoothening, and tightening.
Get Your Blanco Skin Bleaching Cream Today
And reveal your best skin brightness
Aqua (water), Lactic acid, Niacinamide, Urea, Arbutin, Octyldodecanol, C12-15 Alkyl Benzonate, Potassium Azeloyl Diglycenate, Cetearyl Alcohol, Hydroxyethyl Acrylate/Sodium Acrylouyldimethile, Taurate Copolymer, 4-Butylresorcinol, Panthenol, Unecylenoyl Phenylalanine, Retinol, Zea Mays (corn starch), Panthyl Triacetate, Kojic Dipalmitate, Citric Acid, Cetearyl Glucoside, Phenoxyethanol, Caprylyl Glycol, Allantonin, Xanthum Gum, Tocopherol, Chlorphenesin, Narsingenin, Titinium Dioxide, Disodium Edta
Unlike other lightening creams, Blanco skin bleaching cream does not contain harsh chemicals like hydroquinone. Hence, it's completely safe and even suitable for pregnant women. It's quite easy to use. After cleansing the skin with a cleanser, kindly apply a small amount of Blanco cream all around your skin to ensure the best result. It's your best chance at maintaining more radiant skin.
How People Have solved their skin problems
"I'm so happy with Gold Cosmetics, they came into my life when I needed them the most. Before I was saggy, my face was rough and not looking good. So, a friend of mine recommended me to Gold Cosmetics. They gave me their product and after a few sessions with Zehava, I started noticing changes in my skin. Thank you to Gold Cosmetics."
"I suffered from major pigmentation and sunspots on my face. My face was very bad before. When I came to Gold Cosmetics, I first did the peeling. To maintain it, I used Bleach Cream. Now, I feel amazing, confident, and extremely happy with the result. I recommend Gold Cosmetics to everyone that is suffering from sunspot and high pigmentation or any other skin problem
"I'm happy with their product, it worked so well on my skin. Their treatment process was easy and painless. They were very friendly. I started seeing results on my skin after days of going to Gold Cosmetics. I recommend them to everyone. They are the best"
Gold Cosmetics are simply the best. I've been using them for over two years now. I have my sessions with them every month. And so far, I have been getting what I want. Look at my skin, so nice and smooth. I highly recommend Gold Cosmetics